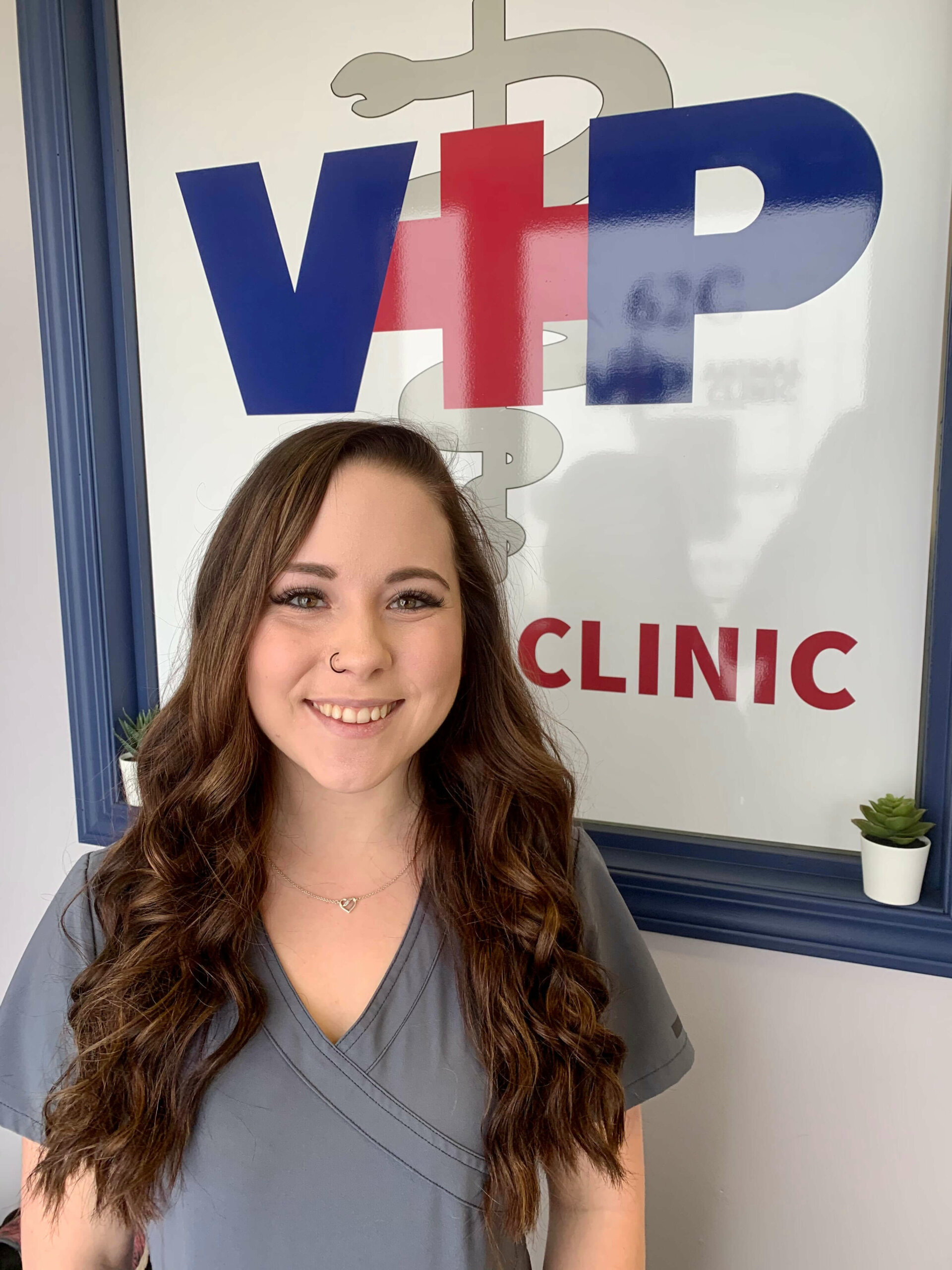 Vyktoria, Human Resources Manager / Registered Veterinary Technician
Meet Vyktoria!
Vyktoria was born and raised here in Regina, Saskatchewan. Her love for animals brought her into the veterinary field as a veterinary assistant in 2017, and eventually as a Registered Veterinary Technician in 2020 when she graduated from Lakeland College's Animal Health Technology Program in Vermilion, Alberta. Vyktoria joined our team in November of the same year and has loved every minute since!
As a Veterinary Technician, Vyktoria loves having the knowledge and skills to provide the best patient care possible, and to advocate for our furry companions who cannot speak for themselves. Outside of the clinic, she can often be found spending quality time with her own pets Kevin (cat) and Bentley (Rescue mutt), as well as her family and friends.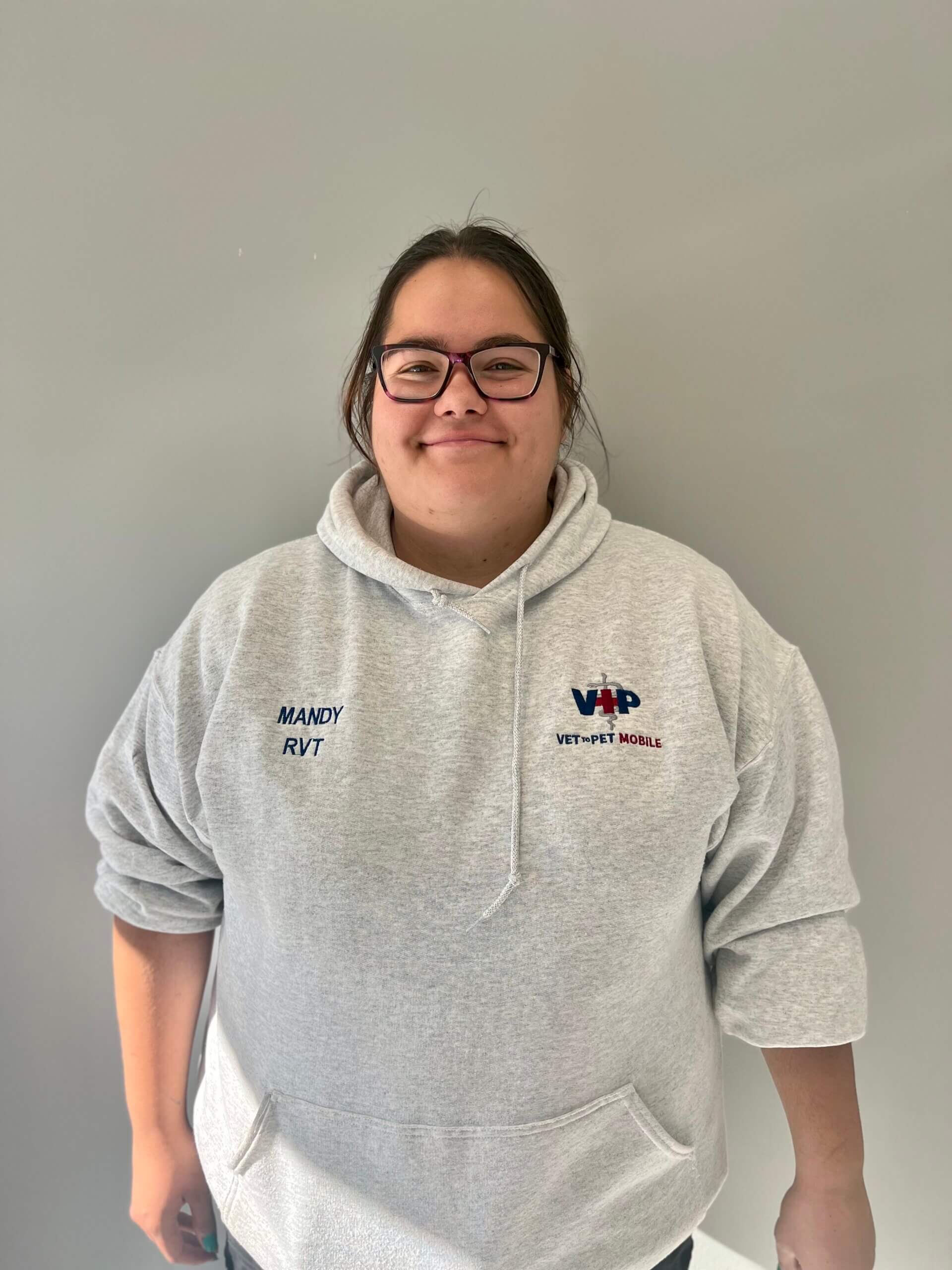 Mandy, Registered Veterinary Technician
Meet Mandy!
Mandy started with our practice in the Spring of 2021 as a practicum student during her Animal Health Technology Program. Since graduating, we are thrilled to have her back on our team! Mandy grew up on a farm in the Lumsden area, helping her family with their herd of cattle and the rest of the farm.
As a veterinary technician, Mandy really enjoys the large animal side of things – specifically, cattle! She's excited to expand her career in this area and learn new skills to help keep our clients herds happy and healthy!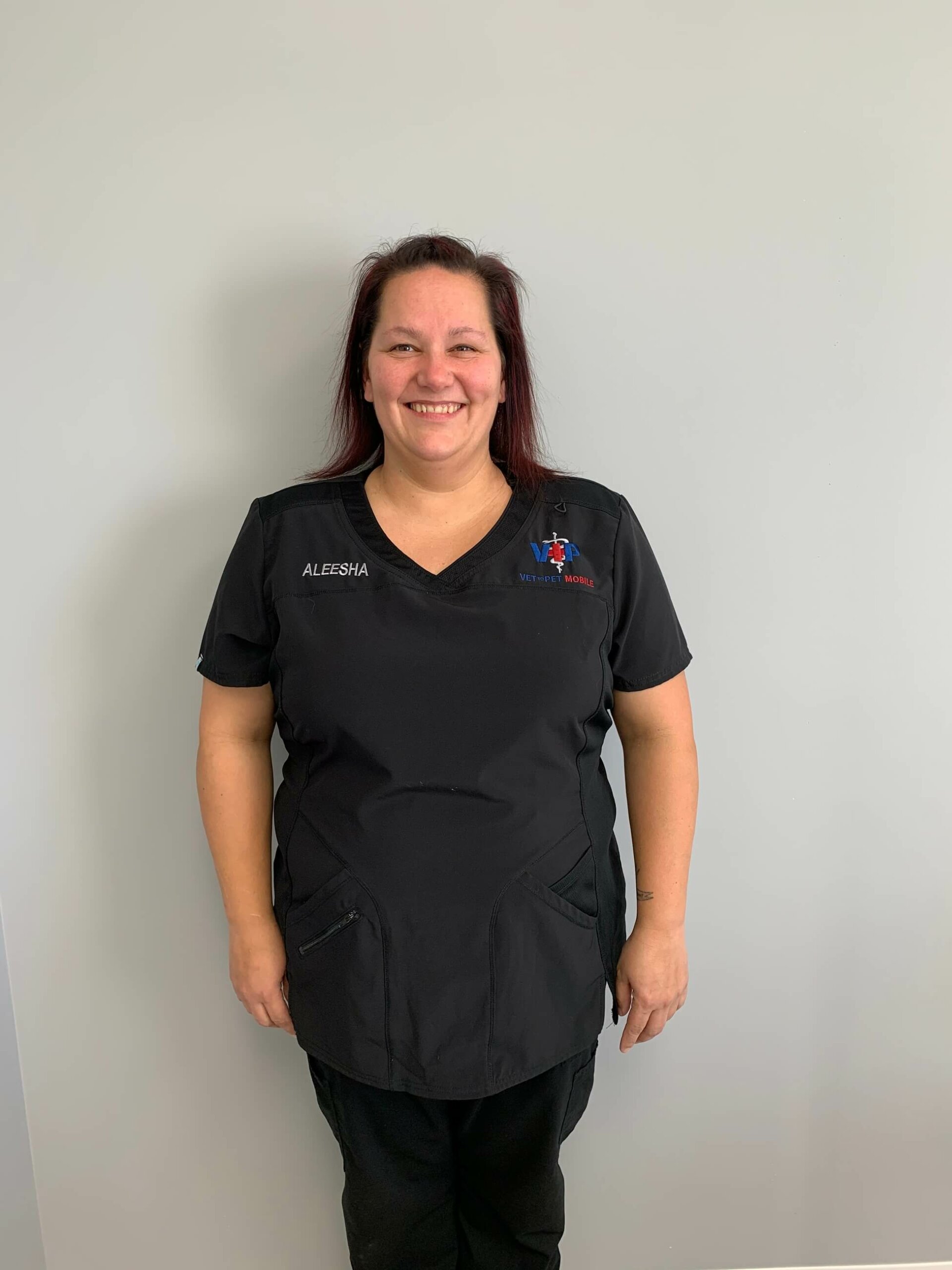 Aleesha, Administrative Manager / Receptionist
Meet Aleesha!
She is that comforting voice you often hear on the other end of the line.
Aleesha joined our team as a Veterinary Office Assistant practicum student in February of 2021. She is our favourite foster fail as she joined our full time team in September.
Aleesha has 3 wonderful children and a German Shepherd named Echo. She loves to bake and is always eager to learn new things.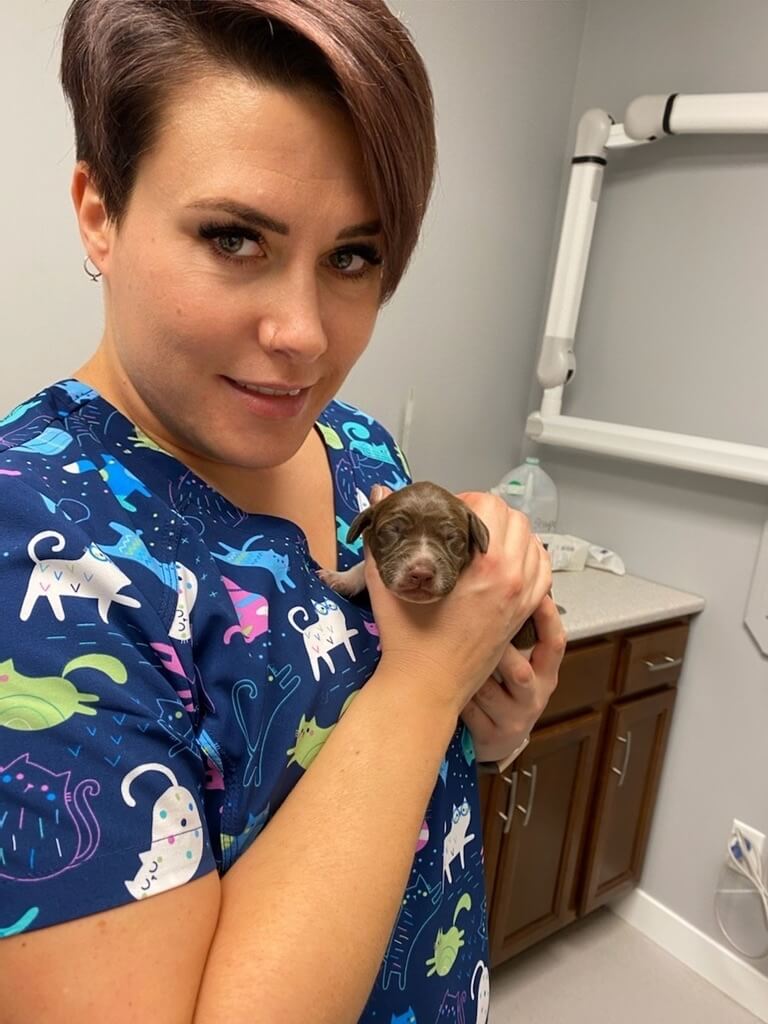 Brianna, Volunteer
Brianna reached out in the fall of 2021, looking for a clinic to call home while she completes the distanced Veterinary Technology program. She has been an incredible asset to our team and we are so happy to have her!
Prior to joining us, Briana worked as a paramedic and then as an RCMP officer. She is very excited to be starting her next adventure in the world of veterinary medicine!
Outside of the clinic, Briana and her husband have three children and two dogs. She also operates her esthetics business from her home, offering services from lash extensions to waxing! She is a woman of many talents!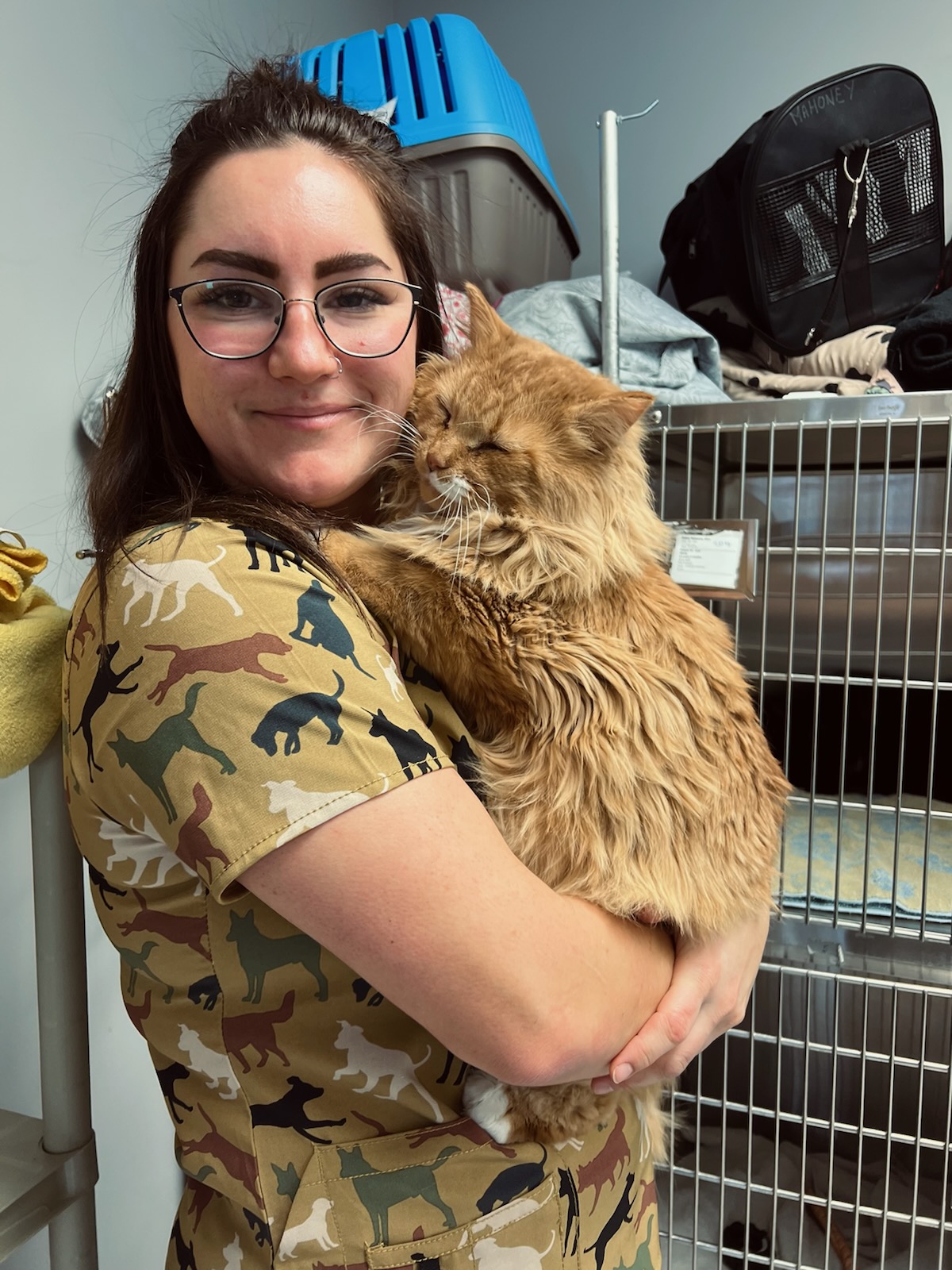 Tyra, Veterinary Assistant 
Meet Tyra!
Tyra grew up surrounded by animals of all shapes and sizes on her farm near Coronach, Saskatchewan, which inspired her passion for working in the field of veterinary medicine. Prior to joining our team in the fall of 2022, Tyra completed both the Animal Science program and received a Veterinary Medical Assistant certificate from Lakeland College in Vermilion, Alberta.
When not helping out at her family owned cattle farm, you can usually find her spending quality time with her cats Chicken and Nugget, and sweet rescue pup, Lemon.
Tyra's favorite part of being a veterinary assistant is developing her knowledge and skills helping animals in need, and takes pride in providing her patients with lots of comfort and loving attention during their veterinary visits, enjoying all of their cute faces.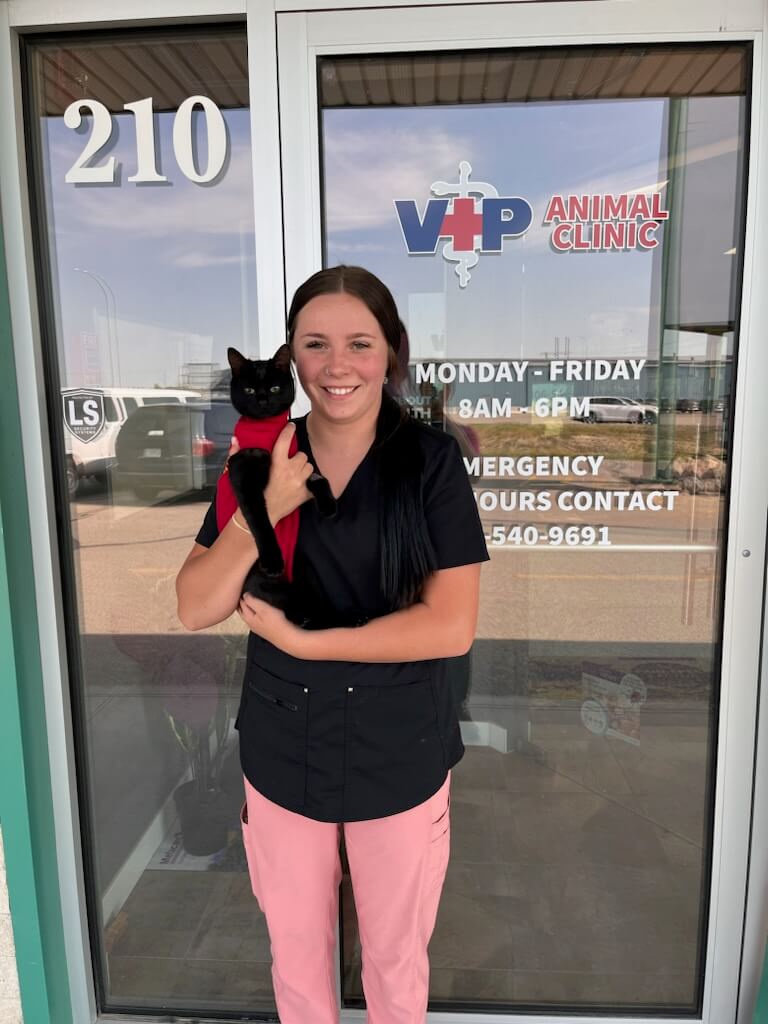 Paige- Vet Assistant/Reception
Meet Paige!
Welcome to Paige! She is one of the newer faces in the clinic.
Paige grew up on a farm outside of Edenwold, SK where she spent her time with a variety of animals such as cattle, horses, and many other small animals.
Paige's true love is working with large animals and livestock, but she is enjoying gaining experience with animals of all shapes and sizes at Vet to Pet. Paige takes pride ini knowing people trust her with their family pets. She loves veterinary medicine because no day is ever the same.
When Paige is not taking phone calls or helping with pets in the clinic, she enjoys spending with her family and friends. She also loves keeping busy caring for the animals on her farm.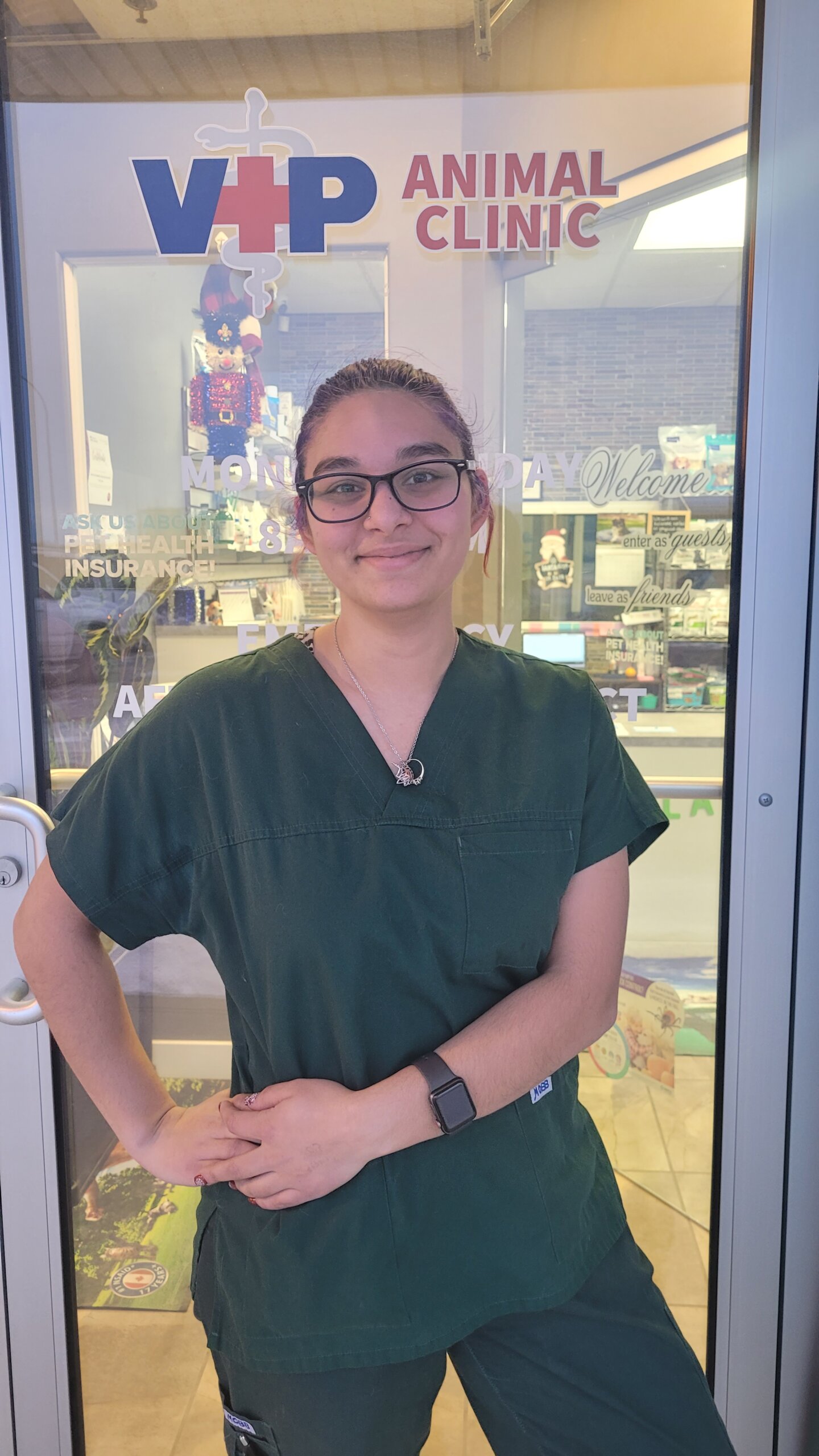 Kahrina, Reception
Meet Kahrina!
She is the friendly voice you hear on the other end of the phone. Kahrina is a local gal- she was born and raised in this area and previously worked at a vet clinic in Saskatoon before joining the Vet to Pet team. 
For her, the best part of veterinary medicine is helping clients with their pets and growing with them during their pet owning journey.
Kahrina has multiple pets- from dogs and cats to chickens. When Kahrina is now at the office, she enjoys sitting quietly by the fire with her own animals and a good book.  She also enjoys playing all sorts of games and has quite the competitive side.