Dr. Jamie Tudor
Dr. Jamie Tudor's love of animals developed while being raised on a small farm near Beiseker, Alberta. After two years of studying at the University of Calgary, she decided to move to Saskatoon and enrolled in the Animal Science Program. In 2002, she graduated with a Bachelor's in Animal Science and worked as a nutrition consultant/sales rep for Masterfeeds Regina while also farming near Bethune. She earned her DVM degree in 2008 from the Western College of Veterinary Medicine and thereafter, worked for a mixed animal practice in Lumsden while honing her skills at the 24 Hour Animal Care Center. Vet To Pet was opened in October of 2011 while Dr. Tudor was working full time at Victoria Vet Clinic. After three maternity leaves, Dr. Tudor decided to focus all of her work time and effort solely on Vet To Pet.
Dr. Tudor prefers the home visits provided with Vet To Pet so that she can spend more time to really get to know the needs of her clients and patients, while being able to provide quality medicine and education to owners.
In her spare time, she enjoys being a mother of 3 children, riding horses, running and competing in triathlons and other races.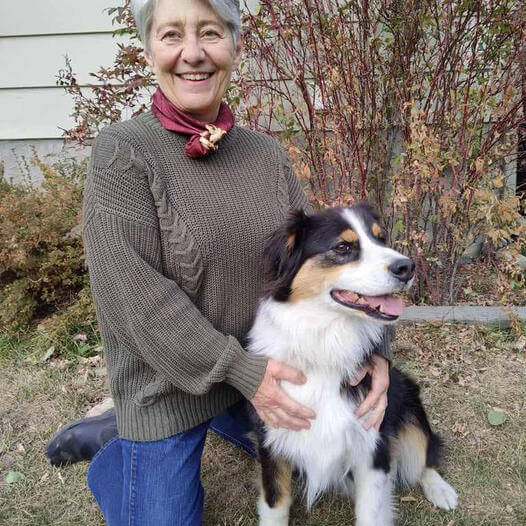 Dr. Karen  Wagner 
Dr. Wagner is grateful she's had animals in her life since childhood. From early on, she appreciated earthworms and frogs but growing up in northeastern Manitoba and visiting her grandparents' farm near Riding Mountain Park, her world came to include dogs and cats, farm animals, and wild animals. By Grade Twelve, she knew how to make sure she would see animals daily and how she might work to advocate for them.
After finishing her pre-veterinary program at the University of Manitoba, she attended the Western College of Veterinary Medicine and graduated in 1979. Her first years as a veterinary practitioner were spent in mixed practice at Balgonie Veterinary Clinic and Sherwood Animal Clinic, followed by many years in small animal practice.
She strongly believes that pain diminishes the quality of our pets' lives (so fight it!), that our pets make us more compassionate citizens of the world, and that all animals inherently deserve our care.
At home, Karen and her husband practise kendo, a martial art akin to fencing. She reads, gardens and organizes family gatherings with her adult daughters and spouses. Long walks with the dogs and cuddles with Yoyo the cat make life better too. Future plans include a trip to Austria to visit a long-absent friend and learning how to paddle a straight course across a quiet lake with her husband. Just to hear the loons.